Ho Chi Minh City is a dynamic city that attracts a steady stream of expats, celebrities as well as locals and affluent tourists every year. To fully enjoy the flavors of this city, there's nothing better than soaking up the great service, trendy atmosphere and lively crowds at Ho Chi Minh's most popular rooftop bars. Definitely worth the experience. Let's explore with Toplist the best rooftop bars in Saigon.
Chill Sky Bar Saigon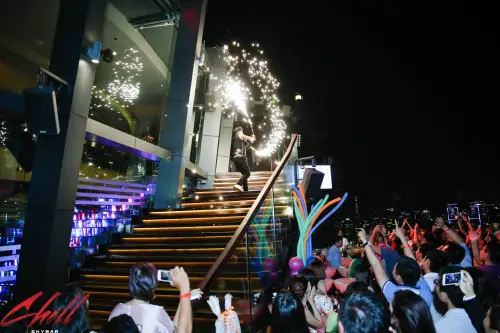 Chill Skybar is a bar known to many Saigon players. The shop is located prominently on the terrace of the AB Tower building with an interesting music space that will help you explode all emotions.
Different from other bars in Saigon, Chill Skybar is divided into many different areas such as restaurant area, non-smoking area, cool space area to rest and relax. This place is not only a gathering place for the "elders" of Saigon's playboys, but also a place for you to learn the "interests" of young people.
Chill Skybar is famous for its attractive space, vibrant music, and delicious and attractive drinks. In addition to novelty cocktails, Chill Skybar also has scrumptious dishes made from carefully selected fresh and clean ingredients. This will certainly be an ideal place for you to enjoy the music space as well as the vibrant city space.
Address: 27th floor AB Tower, No. 76A Le Lai, District 1, Ho Chi Minh City
Glow Skybar Saigon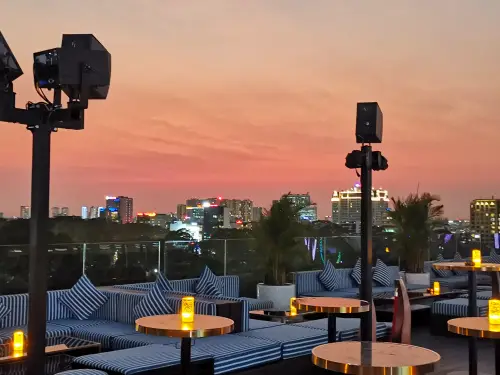 Glow Sky Bar is one of the most famous rooftop bars in Saigon today. Decorated by tropical plants around, with white and black as the main color and adding an airy atmosphere on the rooftop, the space here is quite similar to a beach. Glow brings a feeling of relaxation and comfort to customers. With location on the rooftop of President Place building in the city center. It is not difficult for customers to immerse themselves in the shimmering beauty of the starry sky or the lights of Saigon at night. Glow Sky Bar is also one of the check-in places that is popular with young people.
In particular, the music often played at Glow is deephouse, tropical house, which gives listeners a feeling of peace and freshness. Here you will encounter mainly tourists and foreigners. It is the right place to socialize and chat. The music at this bar is not too loud, people can interact without fear of being overwhelmed by the sound.
Glow Sky Bar promises not to disappoint you. Immersed in premium drinks, vibrant atmosphere, swaying to catchy tunes from famous artists such as DJ Jack Arifeen, DJ Lymchi, DJ Dan kings, Saxophone Hoang Thi,... great for a chill night in Saigon
Address: 93 Nguyen Du, Ben Nghe Ward, District 1, Ho Chi Minh City
Shri Restaurant & Lounge
Shri is located on the rooftop of Centec Tower, a perfect place to capture the beauty of Saigon. Shri has five areas including: Terrace, Glasshouse Terrace, Dining room with 270-degree view, Bar & Lounge, Whiskey library. You can enjoy very attractive modern European and Vietnamese dishes. The bar is furnished with modern furniture, rich sofas, and a sleek bar. The drink is extremely delicious with cocktails, beers, wines from France, Italy, Spain, Germany, Australia, New Zealand and South Africa.
If you come here, you will definitely be impressed by the decoration and the space of the restaurant is very romantic and luxurious with a view from above. Shri is an ideal place to share good times with friends. With live music, delicious food. And best of all, there is a huge selection of Cocktails and more than 300 of the world's best wines. This place is a combination of art, music and creativity to bring customers the new and best experience.
Air 360 Sky Lounge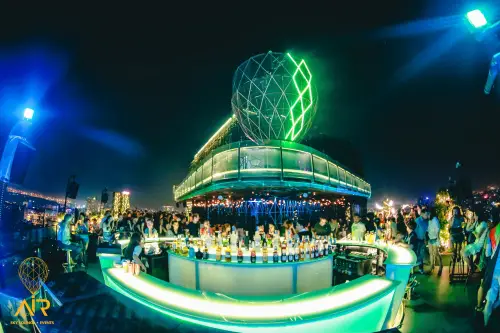 Air 360 Sky Lounge is a favorite bar of guests living in Ho Chi Minh City including tourists from all over the world. With an airy space on high, vibrant music and a variety of drinks, Air 360 will help you explore Saigon at night from every angle.
Located on the 22nd floor, Ben Thanh Tower, 136 - 138 Le Thi Hong Gam. Air 360 is one of the most famous bars in District 1 in the nightlife world in Saigon. Come and choose for yourself a beautiful spot at Air 360. Enjoy drinks with friends, chat and immerse yourself in exciting music, you will surely have fun moments and experience the service. great at one of the hottest bars in the city.
European style, luxury and sophistication. With an ideal height, from Air 360 you can see the whole Saigon at night. The nights are full of stars, the lights are shimmering, the moon is high and the wind is blowing. Melodies of freedom and relaxation ring out at the same time. Experience the perfect Saigon sky bar that's hard to come by in the hustle and bustle of the city.
Broma Not A Bar
Not possessing an outstanding height like other Rooftops, however, Broma Not A Bar has a beautiful view of the busy street of Saigon and the Bitexco building. Besides the beautiful "view", Broma also attracts customers with Western dishes of many styles and flavors.
Broma Not A Bar occupies the fourth floor of an old French colonial building in the Ho Chi Minh City district 1. Accessed via a rickety staircase, this grungy bar regularly hosts live music performances and parties. themed dances with minimal playing resident DJs, house worms and techno music.
Broma serves cocktails, sangrias, wines, and over 30 beers from Belgium, Germany, Spain, and Mexico. Meanwhile, the bar snacks here include Asian and Western favorites like wood-fired pizza, spring rolls, and fries.
With a unique atmosphere and music nights with great drinks, Broma Not A Bar is the ideal place for places worth visiting in Saigon.
Zion Sky Lounge and Dining
The newest sky bar in town with unique design, great atmosphere, nice view especially for fireworks, good music deep house/Tropical house/Tech house, late night with some hip hop / R&B, good crowd, nice food & drinks, friendly & professional staffs