In general, all cities in Vietnam are pleasant places for foreigners to visit and live. The largest expatriate communities are relatively present in Hanoi and Ho Chi Minh City.
Living in Ho Chi Minh city (Saigon)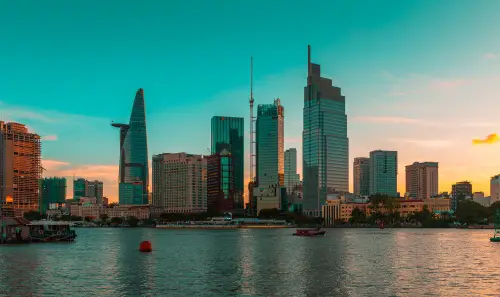 For sure, HCMC is the most developed city, its economy and infrastructure are really modern and civilized. There are many shopping malls, bars, restaurants and other stores for expats to take a break from the stressful life.
As for the weather, the only major season (dry season and rainy season), so it is more pleasant than Hanoi.
The food in HCMC is tasty, cheap and easy to eat
However, another bad thing is that the crime and theft in HCMC may be higher and violent than that of Hanoi, it could happen on the road in the morning and in front of many people.
Advantages of living in Ho Chi Minh City :
Saigon is a mix of tradition and modernity. Standing in front of the main church and seeing Saigon Plaza in the back is just great for example.
Moreover, Ho Chi Minh City is booming. And you can feel it at every corner, from every Xe Om or lady sandwich. Everyone is eager to do something. And it's great.
The food is very varied and you can get any food from any country you can think of.
The climate is not too hot, there is always a breeze in the air, which makes it very pleasant to stay here. Only the rainy season is a bit too long and the infrastructure is still bad in some places.
Why is it the best city to live in Vietnam?
Ho Chi Minh City is the largest city in Vietnam. It used to be called Saigon, which consisted only of districts 1 and 3.
Today, Ho Chi Minh City is composed of at least 12 districts located around Saigon. A lively city that can satisfy your craving for nightlife, plenty of activities to do and the support of large expatriate groups.
Cost of living: $600/month
Best quality: Only six hours to Cambodia (Phnom Penh), one hour flight to Phu Quoc Island, two and a half hours to Vung Tau, many international flights connect here
Internet speed: Strong (up to 35 Mbps)
Expatriate community: Yes (large and diverse), living mainly in Binh Thanh, Da Kao, Phu Nhuan, Thao Dien, District 3 and District 10.
Nightlife: businesses are allowed to stay open until late at night
Living in Hanoi
The 1000 years old Vietnamese capital, most travelers who come to Vietnam want to quickly explore this old city and feel the traditional culture first.
Hanoi is a bustling and lively city, literally. Everyone has things to do, the streets are always full of people, Hanoi can be considered as one of the safest places in Vietnam.
Why is it the best city to live in Vietnam?
The capital of Vietnam not only attracts visiting tourists, but expatriates who are considering settling in Vietnam are at the top of Hanoi's list. The capital is rich in culture despite the waves of travelers arriving every year.
Cost of living: $600/month
Best quality: Close to Ha Long Bay and Sa Pa, rich in culture, not too big of a city
Internet speed: Strong (up to 30 Mbps)
Expatriate community: Yes (large and very diverse), living mainly in Tay Ho or Dong Da district.
Choose the area between the West Lake and the Old Quarter to avoid the tourist crowds.
Nightlife: businesses are only legally allowed until 11pm
Living in Da Nang
However, living in Da Nang is great. The quality of life on average is better than in Sai Gon. However, it could be more boring in Da Nang than in Sai Gon for an expatriate.
There are less cultural activities. There is almost no nightlife in Da Nang. If you want a fun life, we would not recommend Da Nang.
But if you want to live a peaceful life, with outdoor activities (running or practicing yoga on the beach), biking at Son Tra Peninsula... or just biking around town, we would recommend it.
Besides, it's clean in Da Nang. Local (street) food is much cheaper (half the price of Sai Gon) and of good quality, especially compared to Ha Noi.
From Da Nang, you can go to Hoi An easily. So if there is nothing to do in Da Nang one day, it would take you 30 minutes to get to a beautiful old tourist town
Summer is hot but after 4pm, there is sea breeze. The worst thing could be the typhoons in October and November, but there is nothing really affected. Even after heavy rains, the streets are not flooded
Why is it the best city to live in Vietnam?
Known as one of the best cities in Vietnam, Da Nang attracts expats looking for a nice beach life but a good atmosphere.
Expats with children and/or those retiring choose Da Nang, which has its own airport serving all parts of Vietnam and even outside.
Cost of living: $500/month
Best quality: beach, close to the best places for hiking and nature exploration, wider roads than other cities
Internet speed: Medium (up to 20 Mbps)
Expatriate community: Yes (mainly related to expatriate groups in Hoi An)
Nightlife: Da Nang has a number of casinos, bars and restaurants are open until midnight or later to accommodate expats and travelers.
Living in Nha Trang
Why is it the best city to live in Vietnam?
Nha Trang is popular for Russian expats, mainly because almost everything here is in Russian, even the locals speak Russian or Vietnamese.
Nha Trang is also popular for its beaches and resorts, while expats enjoy year-round good weather and good Vietnamese food.
Cost of living: $600/month
Best quality: beach, less touristy places to hike, food
Internet speed: average (up to 25 Mbps)
Expat community: yes (smaller than the big city, mostly Russian and young expats)
Nightlife: yes - nightlife in Nha Trang is wild and fun, a handful of bars and discos are open until late to accommodate expats, locals and travelers.